Unless you have gone to therapy or been close to someone seeking help for codependent tendencies, your perception of codependency is likely inaccurate in some ways. Aside from popular belief, the term does not refer to the behavior of people who "can't do anything on their own" or "had parents who did everything for them growing up." In fact, it often means quite the opposite.
And, believe it or not, codependency doesn't just affect a small portion of the population! Some estimates suggest that close to 90% of people demonstrate codependent behavior in relationships, with many having realized they struggle with codependency only during and after COVID-19.
So, what is codependency, why do so many of us experience it, and how has COVID-19 made it worse? Keep reading for the answer to these questions and more.
What is Codependency?

Codependency is a pattern of behavior characterized by a mental, emotional, physical, and/or spiritual reliance on another person in a close relationship (e.g. spouse-spouse, friend-friend, coworker-boss, sibling-sibling, etc.). It can also be thought of as an imbalanced relationship in which one person ("the giver") assumes the responsibility of meeting the needs of the other person ("the taker") and, in doing so, cannot acknowledge their own feelings and needs to the point of personal detriment.
Codependent people are typically empathetic, highly capable, and independent in that they take care of everyone, including themselves, without asking for help. The problem with this ultra-independence is that it is impractical; we all have needs, and they can only go unmet for so long. And while codependents can maintain complacency for extended periods of time (months, years, sometimes decades), they do eventually become resentful of the lack of reciprocation from others and explode—either internally or externally.
At their core, codependents want to feel secure and wanted for their true selves, but in pursuit of this safe connection, they self-sacrifice so much that they end up losing all sense of themselves. In other words, by making others "need"/depend on them, they make the very thing they crave, authentic connection, impossible.
What Causes Codependency?

Codependency is not a personality disorder or clinical diagnosis but rather a learned behavior that can be passed down from one generation to another. Those who struggle with codependency usually developed the condition by watching and imitating other family members who managed situations of abuse, neglect, illness, addiction and other traumatic situations (usually within the family) the same way—by "fawning" (repressing one's own needs in order to be loved and accepted, i.e. people-pleasing).
But it goes deeper than that. At its root, the compulsion to self-deny is the result of a complex form of attachment disorder and PTSD developed in childhood. As children, codependents received inconsistent attention, affection, and emotional support from their parents—a sort of hot and cold dynamic interpreted by children as a reflection of their own inadequacy. To cope and thus reduce these feelings of abandonment, they learned to attain more consistent love through people-pleasing, a softer form of manipulation and control.
Unfortunately, as these children become adults, the fear never goes away (PTSD), driving them to continue fawning in hopes of never being abandoned again. What they don't realize, though, is they are still being abandoned—only now by themselves. For these reasons, codependency can be considered a symptom or defense against PTSD.
…AKA relationship addiction
When we think of addiction, alcohol, drugs, sex, and gambling are the first words that come to mind, but a less commonly known form of addiction is the addiction to people, which is codependency in of itself. As codependents begin to only think of the thoughts, needs, and desires of the one they are pleasing ("the taker"), they are no longer able to identify their own. This enmeshment means that their only sense of worth derives from the praise, recognition, or affection they receive from the other person. Over time, this creates an addiction to the highs of validation and affirmation, much like the highs you would see in any other addiction. The codependent looks for ways to help, and they are rewarded with praise in return. On the flip side, when their help goes unnoticed and the other person withdraws, the codependent fears the relationship will end and falls in a state of severe emotional distress until they feel valued again. With time, the caretaking becomes compulsive, and the codependent experiences feelings of helplessness in the relationship, unable to break free.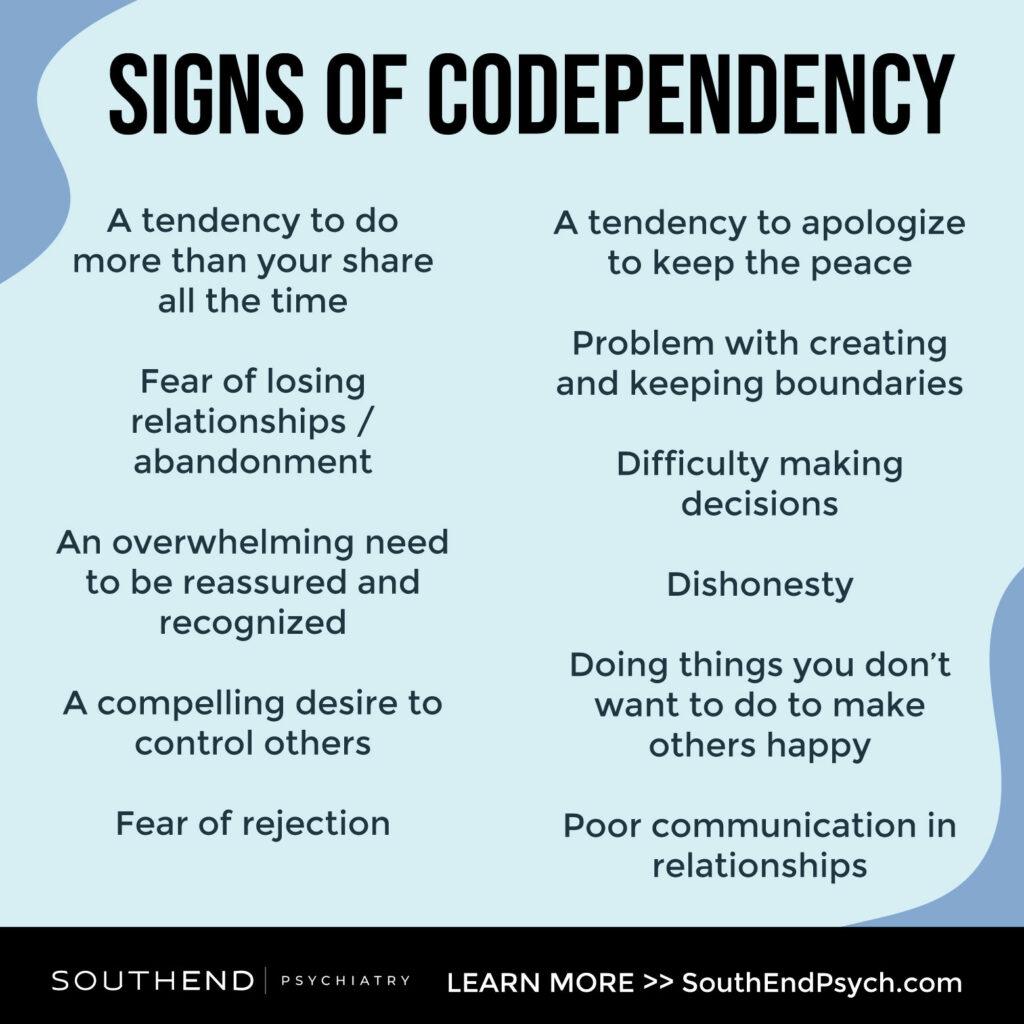 Signs of Codependency
A tendency to do more than your share all the time.
Never asking for help; overwhelming yourself with tasks that others could do.
Fear of losing relationships/abandonment.
Fear of rejection.
Doing way more than the other person to hold onto your relationship.
An overwhelming need to be reassured and recognized.
A compelling desire to control others.
Lack of trust in yourself and/or others.
An exaggerated sense of responsibility for the actions of others.
A tendency to love people you can rescue.
Excessive concern with loved ones' behaviors.
Constant feelings of hurt when people overlook your efforts.
Guilt after asserting yourself.
A tendency to apologize to keep the peace.
Difficulty naming your feelings or fully feeling them.
Minimizing your feelings when you do feel them.
Worrying about what others think of you.
Problem with creating and keeping boundaries.
Difficulty making decisions.
Dishonesty.
Doing things you don't want to do to make others happy.
Poor communication in relationships.
Idealizing loved ones to the point of maintaining relationships that don't fulfill you.
The Link Between Codependent Tendencies & COVID-19

COVID-19 has taken its toll on couples with underlying, previously unnoticable or manageable codependent tendencies. Without breaks from one another and access to other sources of fulfillment and support (such as exercise classes, lunch with friends, in-office work, etc.), many report feeding off of each other's emotions more than ever and relying heavily on the relationship for every emotional need. Couples who don't live together have also experienced strains on their relationship but for the opposite reason: not being able to spend enough time together due to shutdowns, quarantine, and limited date nights.
Amidst traumatic circumstances, slipping back into old ways—natural instincts—is normal. Just like with PTSD from childhood, PTSD from the accumulation of stresses caused by COVID-19 can cause codependent habits to resurface, worsen, or appear for the first time. If that is you, rest assured that there is hope. As mentioned above, codependency is a learned behavior, meaning it is possible to unlearn the compulsions causing you distress and negatively affecting your relationships. The best course of action is to seek help. A therapist can show you how to form healthy attachments in your relationships, establish your own identity, and assist you in healing from the triggering experiences you have had, whether in childhood or more recently.
The good news is, post-pandemic, our environments and circumstances are changing. With that, and professional support, how you are feeling will change too. Book your appointment online or call 1-800-632-7969 to get started today.