For most companies and schools, Labor Day is THE day. The day that offices and classrooms will begin to fill again. The day that many are looking forward to while others are dreading. The day where so many worries will surface and anxiety will take hold.
Working from home and remote learning offered a safe haven.
With the deadline approaching to re-enter the world not as we knew it, there are elements that are likely to cause more worry. Public transportation, no reliable childcare, getting sick and lack of space are the most mentioned concerns when surveyed. Just like adults, kids have worries too, and we all need to know how to navigate through their feelings. Remember, that any anxiety you feel is normal. We love order, making plans and following routines. Upon returning, order-plans-routines may all be up in the air. However, humans are exceptional at adapting. Remember that when you walk into the office or you're preparing your children for class next week.
How can we make it a smooth return to the physical workplace or classroom?
Dress Rehearsal – Make lunches, lay out clothes, set the alarms and practice a dry run of an actual day back to work and school. Iron out all the kinks. This means stepping on to the subway or hailing a cab, socially interacting with others in public and then coming home to work through the feelings.
Schedule a time to relax – As busy as we can find ourselves, make sure that you schedule in some time to breathe, take a bubble bath, read to the kids, go for a walk or just sit. Getting back into the groove is going to be exhausting and this time of relaxation is imperative for you and the kids.
Maintain a routine – Being home means the routine may have gone right out of the window. You've taken breaks when you needed one, made an afternoon tea and possibly even had a lunchtime nap while at home. The office and school setting is quite different and an adjustment will take time. Give yourself and the kids that time by establishing the routine now.
Ask for the employer's or school's COVID 19 policy – Prior to returning, make sure you are well versed in what is in place to protect you and your children. If you feel uneasy, this is the time to reach out and ask the questions. This also gives you time to prepare yourself and the kids on how to handle situations that may arise as you re-enter.
Show yourself some mercy – Don't enter back in full force and go 100 mph because you've got a to-do list a mile high. Take it slow.
Practice calming methods – Breathing exercises are key to calming down and easing your mind. Teach these to your children as well. Equip them with the same tools that you intend to return with next week.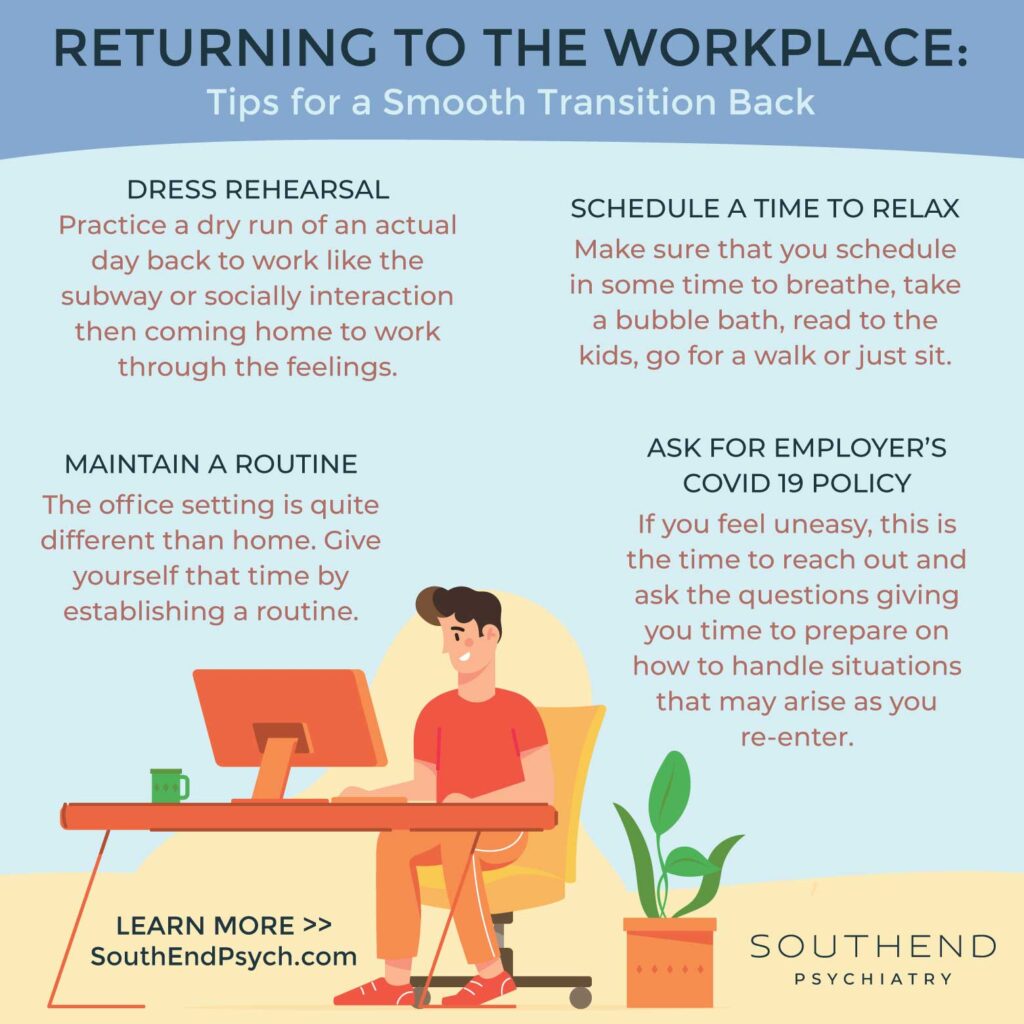 Remember, emotions and feelings are real.
It's normal to be cautious, nervous or even weary, but it's also important to be prepared to re-enter the world with a toolbox filled with the right tools. These strategies will help you feel some much-needed ease this fall as we try and learn how to navigate in another new normal.