Unfortunately, depression does not discriminate. This disease has affected the lives of over 300 million people worldwide. Just looking at statistics can be overwhelming, but it's necessary to understand the magnitude of what's happening to those around us. It's imperative that we are in tune with the ones we love and cue in on the signs and flags they are metaphorically waving.
6 Signs to Watch For:
Feelings of Worthlessness–
When someone is constantly doubting themselves, never feeling confident in their abilities and their reflections are negative– this is a sign.
Loss of Interest-
When someone suddenly loses interest in activities that previously brought them joy such as sex, sporting events, hobbies, and social gatherings–this is a sign.
Suicidal Thoughts-
When someone feels they are no longer of use in this world, makes a plan, or speaks of taking their own life–this is a sign.
Change in Appetite-
When someone is overeating or undereating due to stress or anxiety, and these habits cause a dramatic change in appearance–this is a sign.
Trouble Sleeping–
When someone begins to lose sleep due to daily stresses such as financial woes, work issues, marital or relationship problems–this is a sign.
Fatigue-
When someone, rather they get enough sleep or not, has an overwhelming feeling of tiredness–this is a sign.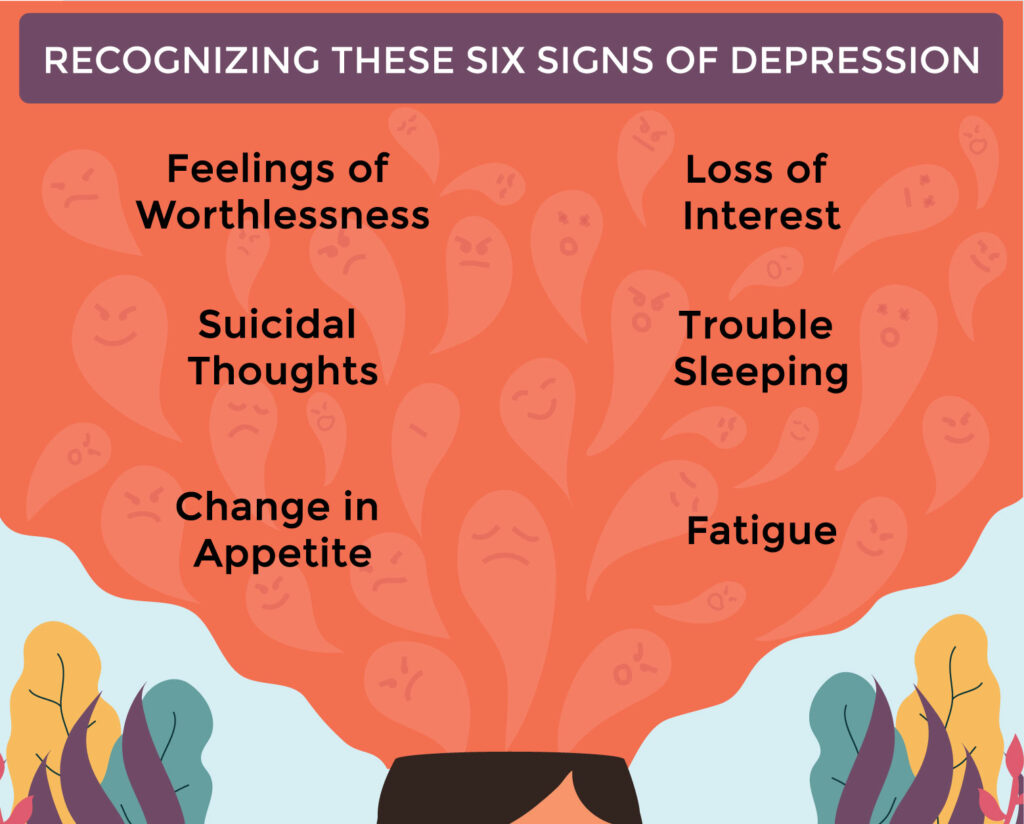 Symptoms in children are quite similar, but we must keep a closer watch as 3.1 million children from ages 12-17 are experiencing depression. They might withdraw socially, suddenly become more sensitive, have unusual vocal outbursts, or feel overwhelmed with sadness.
Regardless of the different outlets available to those who are depressed, 35% still receive no help. Listening is invaluable. Listen to your friends and family. Check in on them and ask the questions that in a positive way, force an answer that will allow you to help. Here are some examples of questions to ask:
How can I best support you?
What specifically is hurting you? 
Who do you have in a supportive circle at work? At school? At home? 
What night can I bring dinner so we can talk? 
My calendar is open, pick a morning and let's meet for coffee. 
Ask the questions, have the conversations, and tune in to those around you.
The flags will wave, it's critical that you see them. Once seen, take the next step and have the conversations. Bring a certified professional in. Don't be afraid to push them toward healing. At Southend Psychiatry, we offer services primarily online and in-person at flexible locations near you, and will be ready to support you and those you love on the path to mental wellness!