August is National Breastfeeding Month, and it's necessary to take a look at how it can affect one's mental health, both positively and sometimes negatively. As a mother, we want to do what's best, but does that always mean the breast?
What do the Experts Say?
For babies, breastfeeding is recommended by the American Pregnancy Association as the most nutritionally balanced meal as it helps protect against common infections and increases the survival rate in the first year of life. But, how does it benefit the mother? From increased confidence and self-esteem to lowering the risk of breast and ovarian cancer, there are many benefits to breastfeeding.
Additionally, there are two hormones produced when breastfeeding: oxytocin and prolactin. These two hormones promote stress reduction, positive feelings and lessen the risk of postpartum depression. The American Psychological Association reports that 1 in 7 will be diagnosed with what is otherwise known as the "baby blues," and breastfeeding is a great way to combat this disease that has affected many new mothers.
The Pressure to Breastfeed.
On the flip side, can the pressure to breastfeed exclusively affect your mental health? Psychologists and real-life moms say YES! When it comes to what is best for the baby, a healthy mother takes precedence.
"Breastmilk does not care for, nurture and bond with the baby. A mother does. I am not arguing the health benefits of breastfeeding. Those are known facts. I am talking about the part that just isn't talked about enough: a mom's mental health."

Carrie Bruno, a lactation specialist, writes in a Today's Parent article
Viable options are available now more than ever to help supplement and dissolve the feeling of inadequacy, stress, or pure exhaustion. When the pains and strains of exclusively breastfeeding feel overwhelming, it may be time to take a step back and make a new plan. In the end, you have to let go of the societal pressures and do what is best for you.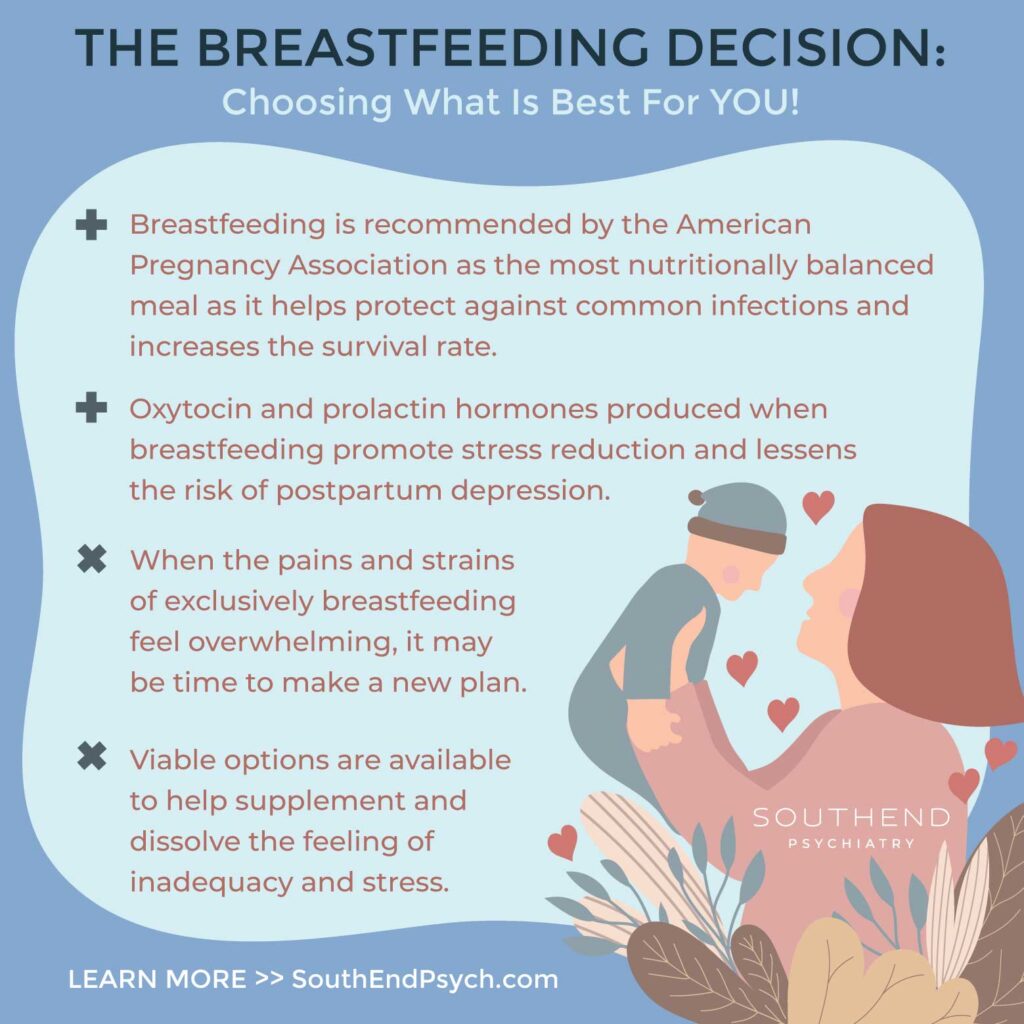 Moms, this is your decision!
We recommend you surround yourself with supportive people. Discuss options with your doctor and lactation specialist, join a support group online or in-person, and most importantly, trust your instincts!
If you think you may be struggling with postpartum depression, please reach out to someone that can help – schedule an appointment with our team or call or text the Postpartum Support International helpline at 1-800-944-4773.