November 15th through 19th is Anti-Bullying Week—a week meant to raise awareness about the prevalence and dangers of bullying across the globe. Roughly 20% of U.S. children and teens in school report being bullied, with 41% of these students indicating that they expect to be bullied again. And these numbers are only growing. With social media (Snapchat, Instagram, TikTok, etc.) increasingly becoming children and teens' primary form of communication, bullying is easier than ever…because why do it in person when you can hide behind a computer screen?
If you're a parent, these statistics aren't exactly comforting, especially when you consider the effects of bullying. More than physical harm, victims of bullying are at an increased risk for depression, anxiety, sleep difficulties, lower academic achievement, and dropping out of school.
So, what, if anything, can you do to make a difference? Here are 5 tips to get you started:
Ask questions.
Some kids are more communicative than others, but either way, asking your child about their day can go a long way in helping you (and them) identify unsafe people in their midst. Ask, then listen intently to what they have to say. Learn their friends' names, even the classmates you've never met. Stay mindful of patterns, and remember: Bullying isn't just throwing punches. Verbal assaults and/or antagonistic behavior can be just as harmful to a child's wellbeing.
Teach your kids how to respond.
Teaching your children emotional intelligence—how to manage their emotions and identify and relate to the emotions of others—is a great way to prepare your child for abusive situations of any kind. Encourage your child to call out bullying when they see it, to ask questions, and on the flip side, to notice the effects of their own actions on peers. For example, when approached by a bully, teaching your child to respond, "Are you being mean to me right now? That is not okay with me," and then to confide in an adult is much more effective than teaching them to ignore the bully (whose behavior might only escalate).
Set limits.
As we mentioned, cyberbullying is on the rise and can be more difficult to detect than other forms of bullying. This is where limiting the amount of time your child spends on social media is key. Bullies often know no bounds, so helping your child create their own by "signing off" after a certain amount of time sends the message that they need to have boundaries even when others don't—even when it's uncomfortable. Also, having "screen-free" hours will give you the chance to connect with your child and monitor their communication as needed.
Be willing to intervene.
Nobody wants to be a helicopter parent, but when it comes to bullying, the "hands off" approach probably isn't the way to go. If your child is expressing that someone is repeatedly picking on them, first try to understand the situation and your child's point of view. Then, if possible, show them how to address the situation independently. If it's clear that the bullying behavior is too severe or will continue, take action. Your child needs to know that you are their greatest advocate and first line of defense.
Emphasize kindness.
This year, the theme of Anti-Bullying Week is One Kind Word, inspired by the idea that positive connections fostered through kindness can break down barriers and make a big difference for someone facing loneliness (Coincidentally, World Kindness Day also falls in November!). And this idea couldn't be more true. Studies show that kindness increases our sense of connectivity with others, reducing loneliness and enhancing both our mood and interactions. It really is contagious!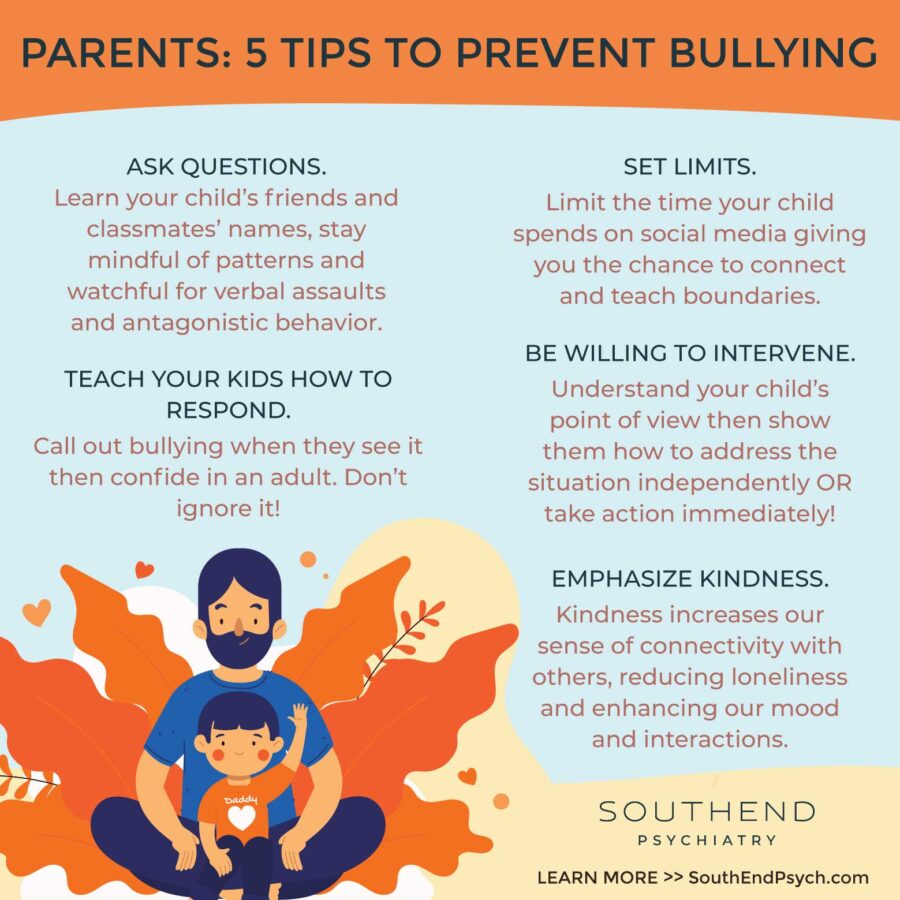 So, perhaps the best way you can help prevent bullying is to make sure your child doesn't become a bully themselves. Create a culture of kindness in your home, and apply the Golden Rule as often as you can in both speech and practice.
Mental Health Services
Your Way,

Learn about Ruby and her journey towards freedom in her relationships and childhood wounds through SouthEnd Psychiatry.
Millennial mental health. From 9/11 to Parkland, politics to pandemics, social media to telemedicine – this generation is set to positively disrupt the world.  We purposely built SouthEnd for a mental health revolution.