You've made it through the Thanksgiving meal, and now you've got weeks of holiday parties and gatherings ahead. If just the thought of all that fills you with sadness and dread (more than just the introvert kind), you're not alone. This year, more adults will experience feelings of depression during the holidays than ever before.
The holidays already tend to be a hard time for mental health: the financial stress of gift-giving, the nostalgia of holidays' past, and the inherent anxiety in getting together with some of the loved ones we prefer to love at a distance. But add loneliness, the loss of a family member, or just the thoughts of what "could be," and you've got Grandma's recipe for anything but holiday cheer.
And that was all before the pandemic sent depression rates skyrocketing. Since the start of the pandemic, depression among American adults has tripled—and they haven't dropped. Even with reopenings and the release of the vaccine, rates have only increased, revealing that 1 in 3 adults in the U.S. now suffers from depression.
So, like we said, you're not alone.
But other than statistics, what else do you need to know, or do, to cope with feelings of depression this season?
Know the Warning Signs.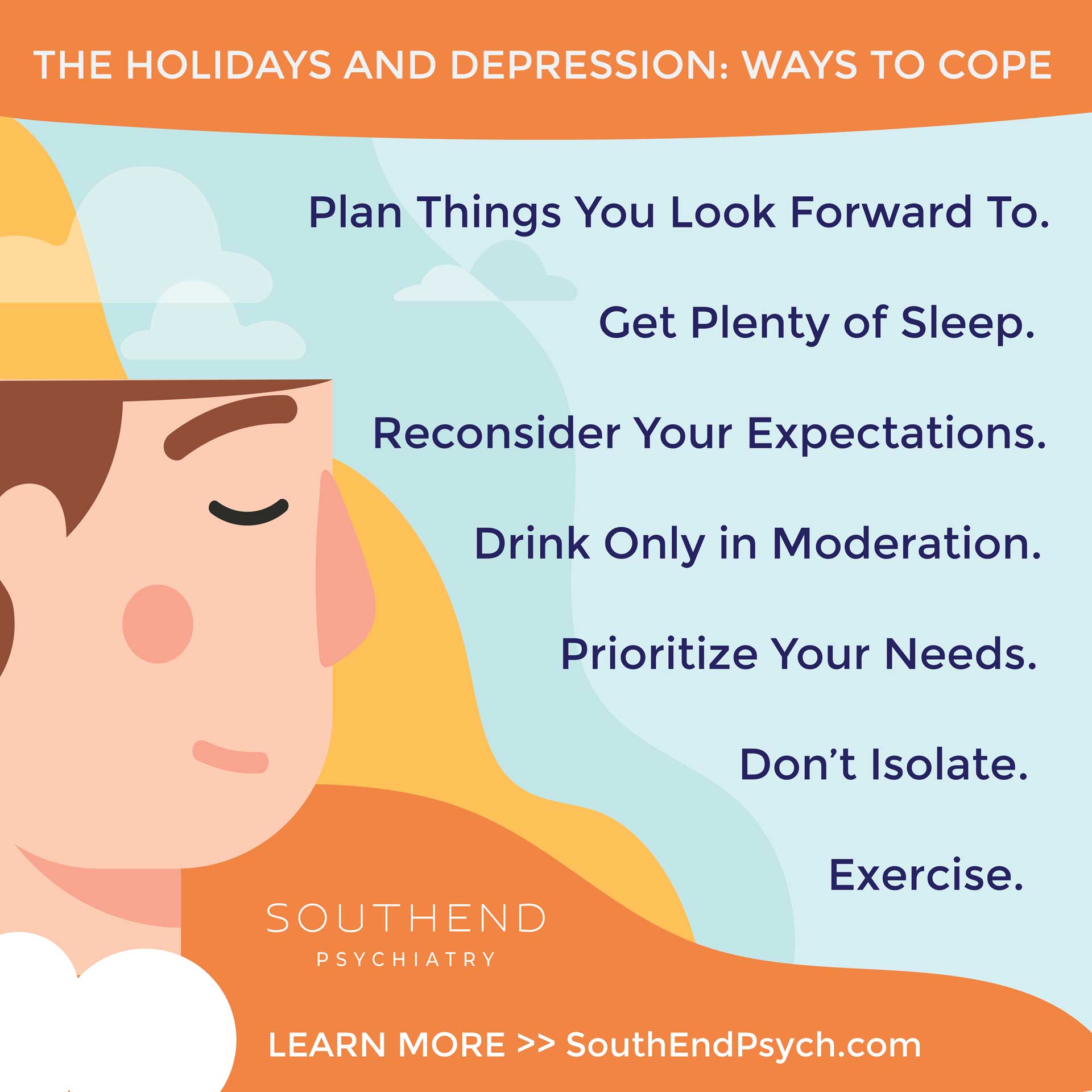 If you're reading this post, then you've probably already noticed some of the more well-known symptoms of depression in yourself or someone close to you. While sadness and demotivation are at the top of the list, it's important to know that depression can lead to other, less overt changes, such as unusual sleep patterns, irritability, trouble concentrating, impulsivity, exhaustion, loss of appetite and weight, crying spells, feelings of worthlessness and guilt, loss of interest in normally enjoyable activities, mood swings, feelings of overwhelm and anxiety, and so on.
If you notice yourself experiencing some of these symptoms, take action: Call someone you trust, and consider contacting a mental health professional if they persist. If you observe these in a loved one, kindly express your concern, and be willing to listen.
Get plenty of sleep.
A hectic holiday schedule can easily cut into your sleep schedule, but when feeling distressed, sleep is the last thing that should go. Poor sleep makes you more vulnerable to depression, and sleep deprivation worsens symptoms like irritability, crying spells, exhaustion, and poor concentration. In other words, sleep helps to prevent low moods and manage them! To ensure your sleep is a priority, set a bedtime alarm, create a nightly routine, and avoid keeping your phone near you at night.
Drink only in moderation.
As "at ease" as it can make you feel, alcohol is a depressant, meaning it can bring down your mood, exacerbating negative emotions—the opposite of what you want when you're feeling depressed. So, to keep spirits high, limit the amount of alcohol you drink during the holidays, aiming to consume no more than one or two drinks in a single setting.
Exercise.
A much better alternative to alcohol for managing emotions is exercise. Exercise increases the production of endorphins in your brain, leaving you feeling euphoric, and research shows that incorporating it into your daily routine can prevent and reduce symptoms of depression. While starting a rigorous, time-consuming workout routine right now is probably a no-go, starting your day with a quick walk or a 30-minute workout video is no big thing and really all it takes to keep some of those holiday blues away.
Don't isolate.
Whether you're longing for company or want to be alone (or a little bit of both), resist the inclination to isolate. A tendency to hunker down is a huge factor in the development of depression. If you're alone this season, reach out to a friend for a Zoom call once a week, and let them know you're down. Get connected in your community: Join a church, volunteer at a soup kitchen, sign up for a group exercise class. And don't rule out meeting with a therapist. Seek support even when it's uncomfortable. Negativity only breeds negativity without sources of positivity.
Plan things you can look forward to.
Who says you have to spend the holidays at home? Book a trip, visit a friend across the country, stay with extended family—do something different! Make a schedule of things to do or try, and stick to that schedule even when your enthusiasm dips. Having something to look forward to—like trying that new restaurant!—will motivate you to get up and go and mitigate the hopelessness you feel. Plus, when you're on the move, your body (and brain) are bound to feel better!
Prioritize your needs.
We often think of the holidays as a time of "have tos," but the truth is, you're an adult, and you CAN say no. Don't want to go to that party with the aunt that always asks why you're still single? Don't! This is not to say you should say no to every less-than-pleasant event, but it does mean that you need to consider what is healthiest for you…because nobody else is going to. Assess how you are feeling and what you need throughout the day, and hold yourself accountable to respecting those needs in your decision-making. Remember, just because you've always done it, doesn't mean you should now.
Reconsider your expectations.
Sometimes, the enemy of good is great. Instead of running around in mental circles considering how your holidays don't look as you had hoped, remind yourself of what is good about your life. Be intentional about staying present with your loved ones in the moment, actively stopping thought processes that lead you to unmet expectations. Don't like how your days look? Figure out a couple realistic ways to improve them. The key is to realize that an imperfect reality doesn't make your reality any less meaningful.
We hope that these tools help you and yours have a most joyous, peaceful holiday season! If the holiday blues turn into New Year's gloom, consider scheduling an appointment with one of our mental health professionals. If at any point your symptoms lead to suicidal thinking, call 911 immediately.