It's a new year—a time to pause, plan, reflect, look forward, and dream before life picks up and the days and weeks start to blur together again. It's what many would consider the second most wonderful time of the year—a fresh start, a clean slate, a moment of optimism. For others, though, the New Year isn't so inspiring. It's a reminder of setbacks and shortcomings, a reason to feel sorrow over decisions and events of years past. And, for at least 20 percent of the US adult population, it's also a time of heightened anxiety over the months ahead. 
So, what's the secret to actually enjoying the start of a new year—to fighting the regret and anxiety so many of us are feeling?
Be more positive! And no, we don't mean "Cheer up, buttercup." After all,
emotions, whether positive or negative, aren't bad. They're just human.
We mean finding a balance between the two by mitigating the never-ending flow of negativity in our lives in very intentional ways. This, research suggests, makes our minds more resilient, leading to less anxiety, regret, and an improved quality of life overall.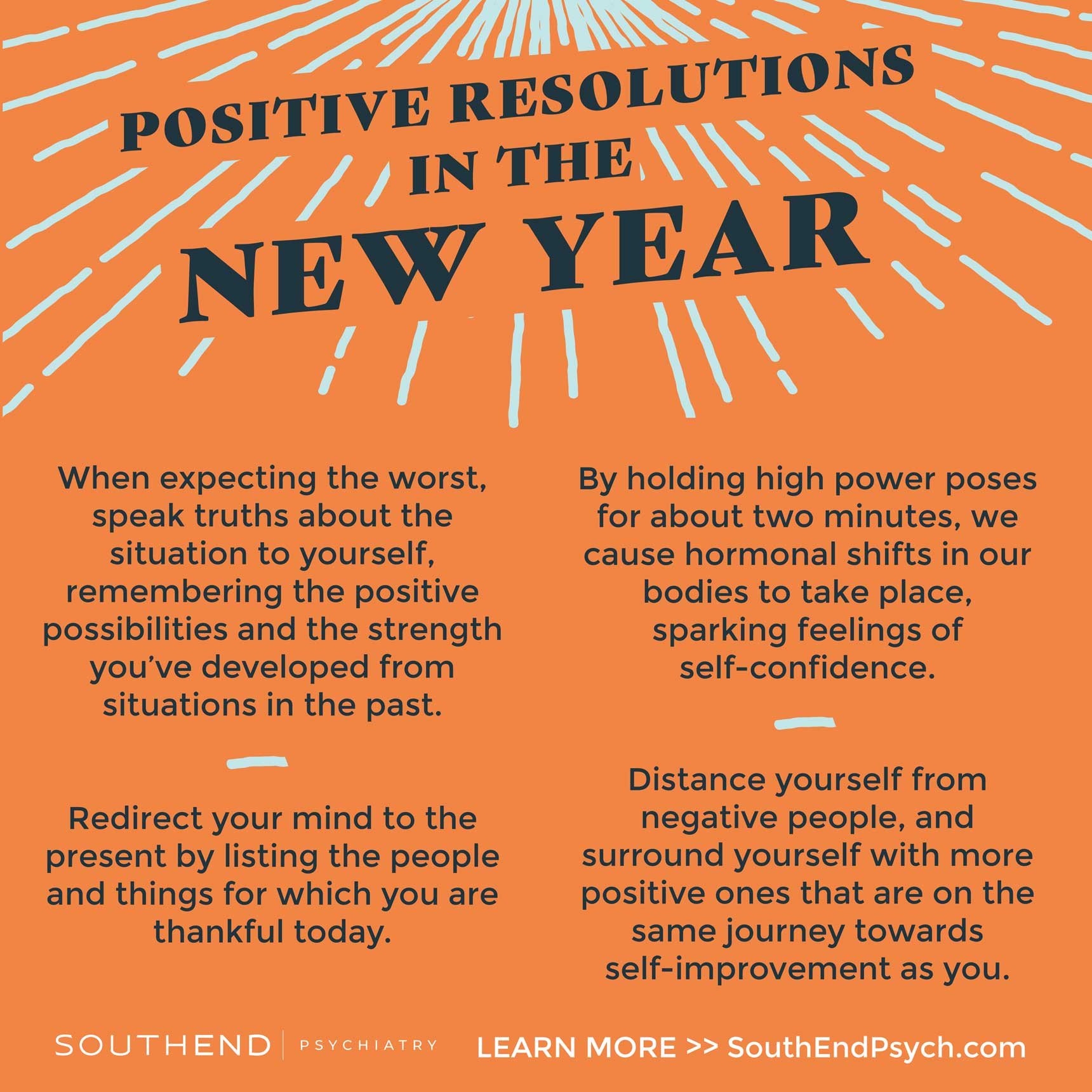 To help you get started, here are a few resolutions you can make to kick off your New Year right:
Trade two for one.

It won't be easy to reverse your negative thought processes, but that old saying, "Slow and steady wins the race," really does apply here. When you find yourself ruminating on past failures—the school you didn't go to, divorce you never wanted, 30 pounds you didn't lose—remind yourself that the past is the past, and you can only work on today to have a better tomorrow. The same goes for negative thoughts about the future: When expecting the worst, speak truths about the situation to yourself, remembering the positive possibilities and the strength you've developed from situations in the past.

Aim to replace every negative thought with two positive affirmations, observations, or gratitudes that counter it. By trading two for one, you'll be teaching your brain to see situations in a better light.
Similarly,

practice thankfulness.

If you're tired of focusing on the past or future, redirect your mind to the present by listing the people and things for which you are thankful today. Be thankful for a good night's sleep, a steady job, a friend who cares about you, your education, yummy lunch, the task you just completed, etc. It doesn't matter what it is, just give thanks! Keep a list in your notebook or phone, and glance at it throughout the day. You'll notice a difference in no time.

Want to get out of a mental rut?

Prove it in your posture.

It's old news that the body affects the mind and vice versa, but studies have found that it's not just healthy eating and exercise that make a difference, but the small habits too—like posture. On the days when you're in a lull and can't break out, stand up tall, pull your shoulders back, and stretch your arms out wide. This posture will not only get your blood pumping, but it will cause you to produce endorphins, much like exercise, that boost your positivity.

To take this a step further, try power posing! A social psychologist at Harvard University found that there are "high power" and "low power" posture poses that affect our mood. By holding high power poses for about two minutes, we cause hormonal shifts in our bodies to take place, sparking feelings of self-confidence. The next time you need a coffee break, break into a power pose instead (like the Wonder Woman pose!), and feel more positive and empowered instantaneously.
Set firmer boundaries.

Distance yourself from negative people, and surround yourself with more positive ones—ones that are on the same journey towards self-improvement as you. We all know that phrase, "You are the sum of the people closest to you." That's because it's true. Being around negative people for an extended period of time can rewire our neuronal connections. When this happens, the networks in our brains begin to respond negatively to situations that we once considered positive. These "re-wirings" can cause long-term depression and anxiety. It can take time, sometimes years, for our brains to learn to think differently again.
So, who uplifts you? Who pushes you towards your goals? Who is kind, patient, and genuinely concerned for your wellbeing? Choose them, and take measures to limit your time with the rest.
Last but not least,
seek out a licensed counselor or therapist.
Nobody should have to face regret and anxiety alone, and it's important that one of the people standing next to you through these struggles has a deep understanding of their causes and effects. Friends and family are great for advice, consolement, and encouragement, but when it comes to chronic emotional distress, treatment is necessary. A professional will be able to break patterns of negativity on a more individualized basis—that is, according to your unique situation and needs.
So, begin implementing the habits above. If these feelings of regret and anxiety continue, schedule a time to talk to someone who can navigate these new habits with you, and maybe even help you identify more that will make this year worthwhile.
Here's to a more positive 2022! Happy New Year to you and yours.