Studies conducted by Baylor School of Medicine are directly linking stress as a major cause of inadequate sleep routines. Dr. Annise Wilson, assistant professor of neurology and of pulmonary, critical care and sleep medicine, explains that people who are stressed think excessively about responsibilities such as work, family and finances. For teens and young adults in school, this stress often focuses on exams and other important assignments. When one attempts to fall asleep, those thoughts continue and cause numerous disruptions in sleep patterns.
Are you getting enough quality sleep at night?
If you find yourself struggling with a negative mood, low energy, difficulty concentrating, and/or a general inability to function as usual, this could be due to a lack of quality sleep which many times is a result of stress.
Let's go through seven ways to manage stress in order to regain a great night's sleep suggested by WebMD.
Assess what is stressful. The first step in getting a handle on stress is to figure out what's causing it. Take a good look at your physical condition and your daily activities. Do you have pain? Are you overloaded at work? Once you identify your stressors, you can take steps to reduce them.
Seek social support. Spending time with family and friends is an important buffer against stress. It can be helpful to share your problems with people who care for you.
Practice thought management. What we think, how we think, what we expect, and what we tell ourselves often determine how we feel and how well we manage rising stress levels. You can learn to change thought patterns that produce stress. Thoughts to watch out for include those concerning how things should be and those that overgeneralize sets of circumstances (for example, "I'm a failure at my whole job because I missed one deadline.")
Exercise. Physical activity can help you blow off steam, reducing stress. In addition, flexible, loose muscles are less likely to become tight and painful in response to stress. But it's best to exercise at least 2 hours before bedtime so your body temperature returns to normal.
Learn to relax. Practice things like yoga, meditation, or deep breathing. Try taking a warm bath and turning off electronics to help you wind down before bed.
Eat a healthy diet. Junk food and refined sugars low in nutritional value and high in calories can leave us feeling out of energy and sluggish. A healthy diet can promote health and reduce stress.
Delegate responsibility. Often, having too many responsibilities can lead to stress. Free up time and decrease stress by delegating responsibilities.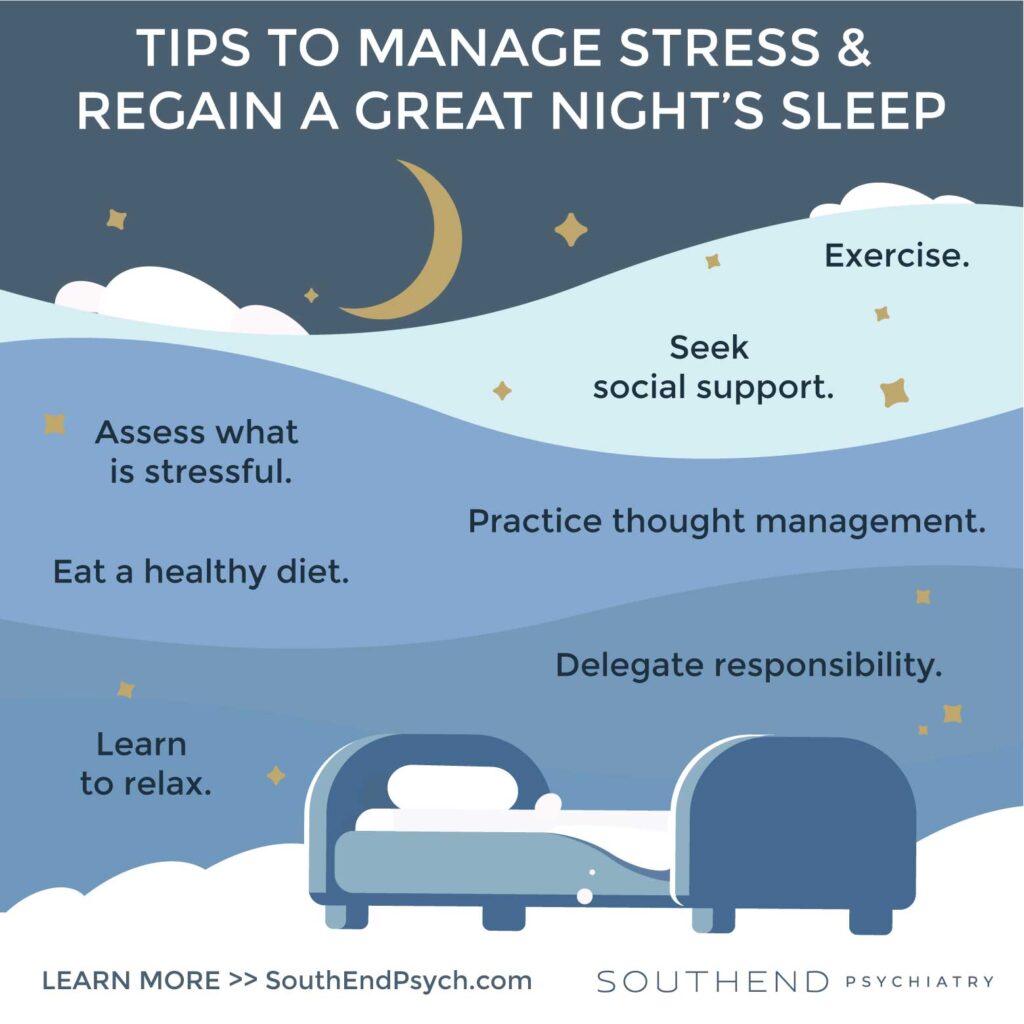 Reducing your daily stress levels can be challenging. Identifying the cause of stress can be difficult and slow to resolve, however removing the source of stress is vital to getting better.
Southend Psychiatry is here as you navigate this journey with you. We can come alongside you to offer support and help in reducing your stress and gaining quality sleep. Contact Southend Psych today to inquire about appointment availability and get on your way to a better you.
Southend Psychiatry
Schedule your appointment today with one of our SouthEnd Psychiatry clinicians. Book your appointment online or call 1-800-632-7969 to get started today.