Emotional wounds from childhood…the vast majority of us have them. In fact, roughly 60 percent of adult Americans report having experienced trauma or difficult relational dynamics as children—and that doesn't even include those of us who have repressed these experiences.
But what is an emotional wound anyway, and why do they matter now?
An emotional wound is a negative experience, or series of experiences, that causes pain on a deep psychological level. It typically involves someone close to you: a parent, family member, lover, mentor, friend, or other trusted individual. It may be tied to a specific event or pattern of events, to learning a hard truth about life, or to going through a physical limitation or challenge. Most emotional wounds are associated with abuse, abandonment, loss, neglect, mistreatment, and inconsistency in close relationships, but even these terms can be defined differently depending on the person. We are all different in a myriad of ways, from genetic makeup to the circumstances in which we live, so what may have been traumatic for you may not be for someone else. Thus, the most important factor in identifying and understanding emotional wounds is not the world's perception of what happened, but the individual who has them.
Childhood emotional wounds are particularly devastating because of who we were at the time: children. If adults have trouble processing these occurrences, just imagine the stress and overwhelm felt by a child trying to understand the same. Unlike adults, children are not yet able to analyze circumstances through the lens of education, social norms, and life experiences. All they know is that they are in pain, and without another point of reference, their conclusion is usually that they themselves must be to blame—that something inside them is inherently wrong, bad, or undeserving.
Unfortunately, these deeply rooted hurts and beliefs don't just disappear with time. Even in cases where the conscious brain cannot recall the experience, the anxiety caused by it continues to be felt by our bodies to some degree. This is why emotional wounds come up later in life, particularly in relationships that mimic the ones in which they were caused (with significant others, family, and close friends): They can only stay hidden for so long. Such long-term, unresolved heartache has both mental and physiological effects. Not only does it chip away at a child's sense of stability and self, damaging their self-worth and later producing feelings of guilt, shame, lack of belonging, and disconnection from others; emotional wounds can also lead to heightened anxiety, difficulty managing emotions, depression, and anger in adults. It isn't uncommon for those with a history of trauma or painful relationships to develop struggles with addiction, chronic illnesses (cancer, heart disease, etc.), poor memory, and other mental disorders as well.
These effects ultimately dictate how we view ourselves, the world, and those around us, changing the way we interact with others. Many adults with emotional wounds have trust issues in relationships and develop victimhood thinking. This causes them to cap their own potential, compromising their success in careers, relationships, and other goals and dreams. For example, when self-expression and self-defense felt unsafe in childhood, unhealed wounds often manifest as passivity and subservience in adults. While these characteristics are sometimes viewed as positive, such people-pleasing behavior can have detrimental effects on the trajectory of one's life as bottling up feelings instead of communicating can lead to resentment, blow-ups, and even depression. Moreover, people-pleasers' "go-with-the-flow" nature makes them more susceptible to the exploitative intentions of narcissists and other parasitic people. Other adults may yell, lash out, be overly assertive, seek control, and push people away in times of distress. 
In situations where any form of child abuse took place, emotional wounds tend to show up as insecure attachment styles. These include:
Fearful-Avoidant Attachment: It is normal for some children exposed to abuse and neglect to fear close relationships. Now, as adults, those with fearful-avoidant attachment are distrustful, have a hard time sharing emotions with their partner and others and often avoid emotional intimacy altogether.

Dismissive-Avoidant Attachment: When a parent or caregiver ignores or rejects a child's needs, this attachment style results. As an adult, individuals with this style turn to ultra-independence to protect themselves from being rejected again.

Anxious-Preoccupied Attachment: Adults with this attachment style require repeated validation in relationships and at times, come across as clingy and needy. Due to a childhood in which their parents were not consistent in the emotional security they provided, these individuals never feel secure. Loving the child and then rejecting them over and over again causes the child to constantly question their place and the validity of the love they receive.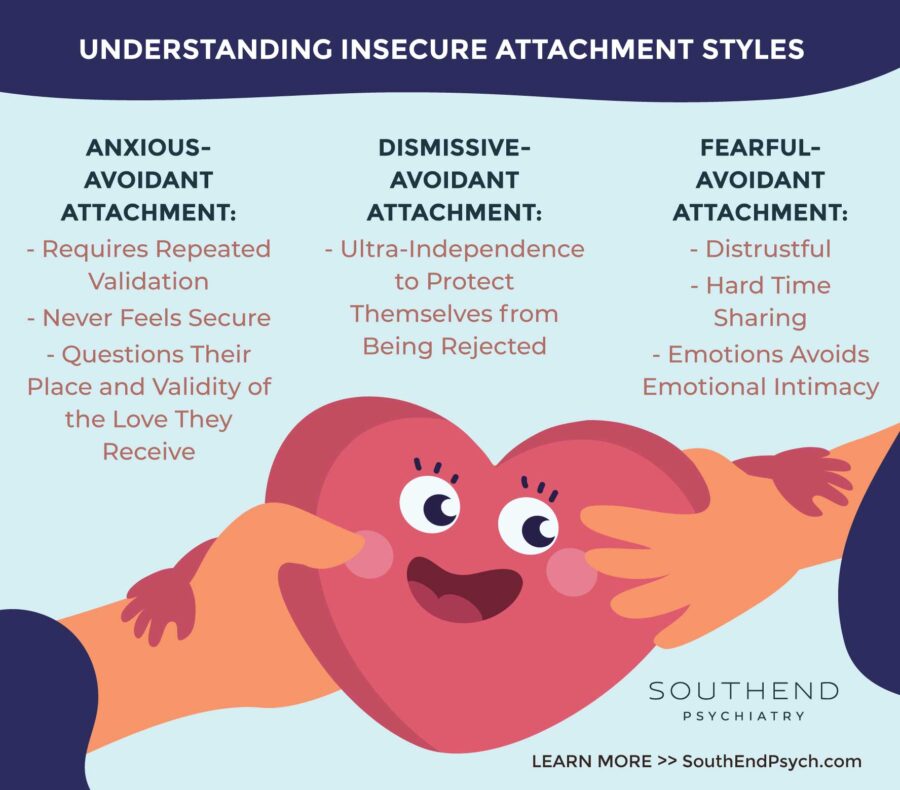 Although distinct, each of the responses mentioned above is a coping mechanism, first learned in childhood in order to function under difficult circumstances and now a pattern of behavior in adulthood used to manage fear, uncertainty, rejection, abandonment, and uncomfortable feelings of any kind.
In sum, emotional wounds run deep and have a profound impact on our beliefs and behaviors as adults, specifically on our self-image and relationships. These traumas, whether big or seemingly small, fracture our foundation and can taint our perception of what is normal and true. They are not easily overcome, but the good news is that they can be. If this article resonated with you and you are not currently seeking support from a mental health professional, contact us today. We would love to help you take steps towards healing—because even though these wounds may be part of who you are, their negative effects don't have to be. 
Mental Health Services
Your Way,

Learn about Ruby and her journey towards freedom in her relationships and childhood wounds through SouthEnd Psychiatry.
Millennial mental health. From 9/11 to Parkland, politics to pandemics, social media to telemedicine – this generation is set to positively disrupt the world.  We purposely built SouthEnd for a mental health revolution.