Dating. Backyard Barbecues. Open mic night at karaoke. Concerts.

Oh how we've longed to get back to these events, but in the same breath, we've worried and allowed fear to claim authority over our lives. How do we slowly get back to that comfort zone that diminished overnight? What can we envision?

Businesses are opening back up, the CDC has made modifications to the guidelines they suggest we follow, and the amount of vaccines being administered is climbing. However, the American Psychological Association reports that 49% of Americans are still uncomfortable with returning to in person interactions and activities. That number is 48% with those who are vaccinated.

We got ourselves vaccinated. Now, how do we move from a feeling of debilitation to rehabilitating our social life?
"One small step…"
Think about where one small step can take you. There is no reason to jump right back in, full force. Take baby steps and start small. Expose yourself in small increments until that feeling of fear or anxiety subsides. And remember, it's not a race.
"Sooner rather than later…"
Haven't we always found it to be true that when we put things off, the anticipation, anxiety and worry builds? Along with the small steps, take a tiny plunge back into the world of people. Venture to the grocery store or instead of the drive-thru, break the threshold and walk in for your coffee. It's quick, but gives you some exposure and begins to build the confidence you may have been lacking.
"Partner up…"
If we've learned anything over the last year, we need companionship and support. Doing things together adds a sense of security. Maybe you've conquered walking in to grab your coffee. Now, you can sit and have the coffee with a friend, even if it's on the patio.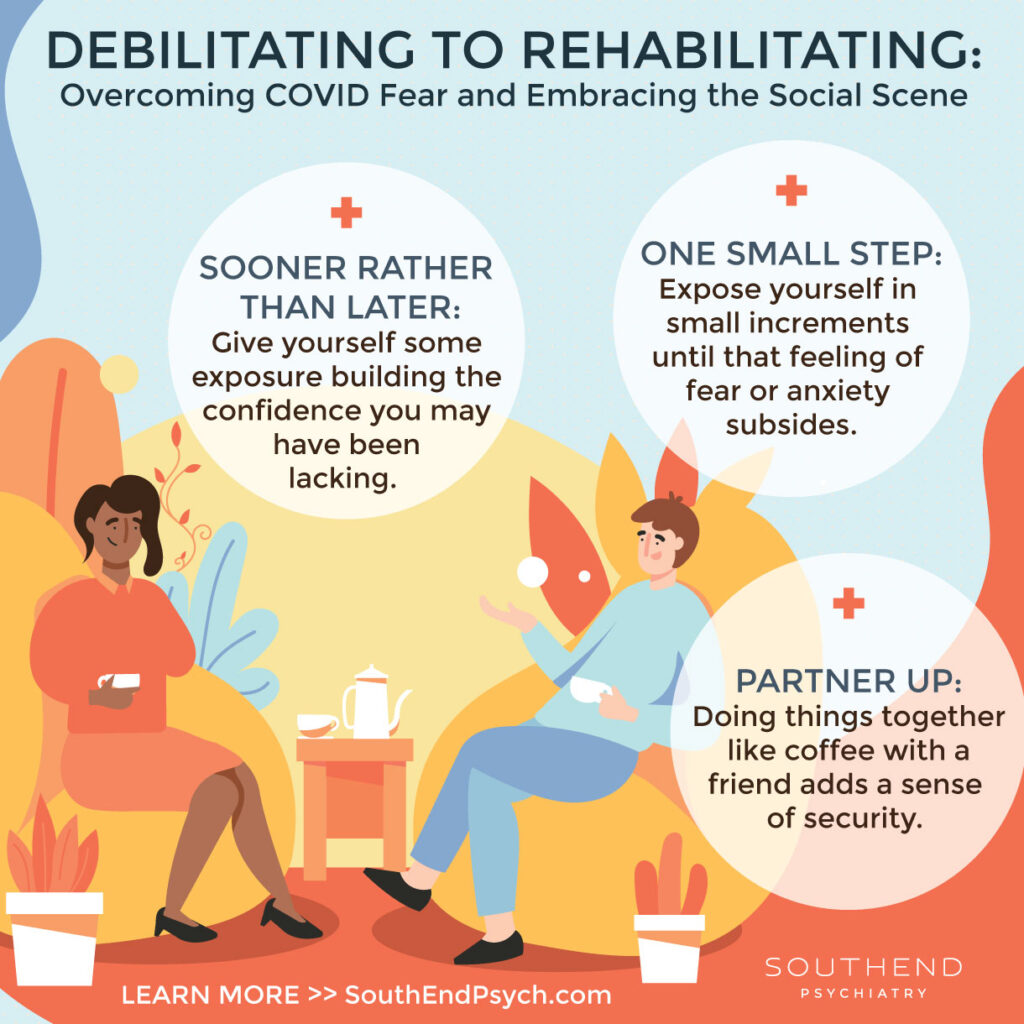 We've heard the word essential more times than we count this year: Essential workers. Essential items. Essential services.

We also heard the word isolate.
What we didn't hear enough of was that social interaction is ESSENTIAL to our well-being, emotionally and physically.
"Fear is the mind-killer" and can completely debilitate us. It did exactly that this past year. To quell our fears and risk not being about to rehabilitate ourselves, the slow immersion back into the social scene is paramount.

Sources:
Quote- Frank Herbert
American Psychological Association